Check tandem video on Facebook click here
Since the Lost Prairie Boogie 2012, we have been dedicated to making our facility a better place for skydiving activities. Our infrastructure is ever changing to keep up with the needs of todays skydivers.
Meadow Peak Skydiving is located on 100 acres of private property in the pristine Lost Prairie Valley of Montana and under the late afternoon shadow of Meadow Peak. We have the exceptional privilege of operating aircraft off of an adjoining private airstrip, Carson Field, which was specifically created with the sport of skydiving in mind. The original founders wanted to provide an airstrip that skydivers would be able to use without the conflict of outside interests interfering.
Carson Field is owned and operated by Lost Prairie Airstrip Inc. that is a group of shareholders who continue to share in the dream of providing a service for the skydiving community. We at Meadow Peak Skydiving are honored to be able to work with this great group of shareholders to further enhance the skydiving experience in the Lost Prairie Valley. We are dedicated to continue the long tradition of the "Prairie" being an excellent place to make your first skydive and to learn how to skydive on your own so you can become part of an awesome group of people who enjoy life to the fullest.
If you are interested in making a tandem skydive we offer them throughout the season for a cost of $279 (cash discount at $250) from 9000′ above the ground or 12,500′ above sea level. We also have available an outside video/still package where another skydiver accompanies you and your tandem instructor and films your complete experience on the ground, in the plane, during free fall in the air, and your landing. This is available for an additional $125 and includes HD photos suitable for enlargement and framing.
During the Lost Prairie Boogie that we host from August 4th through the 14th, we bring the largest airplanes available in the state of Montana during the year and we offer tandems from 12,500′ above the ground or 16,000′ above sea level for $299 (cash discount at $270) with the video/still package available for an additional $135. Call us at 406-858-2330 to book your introduction to skydiving today!
All military members receive an additional 10% discount, inquire at the time of booking.
Learn to Skydive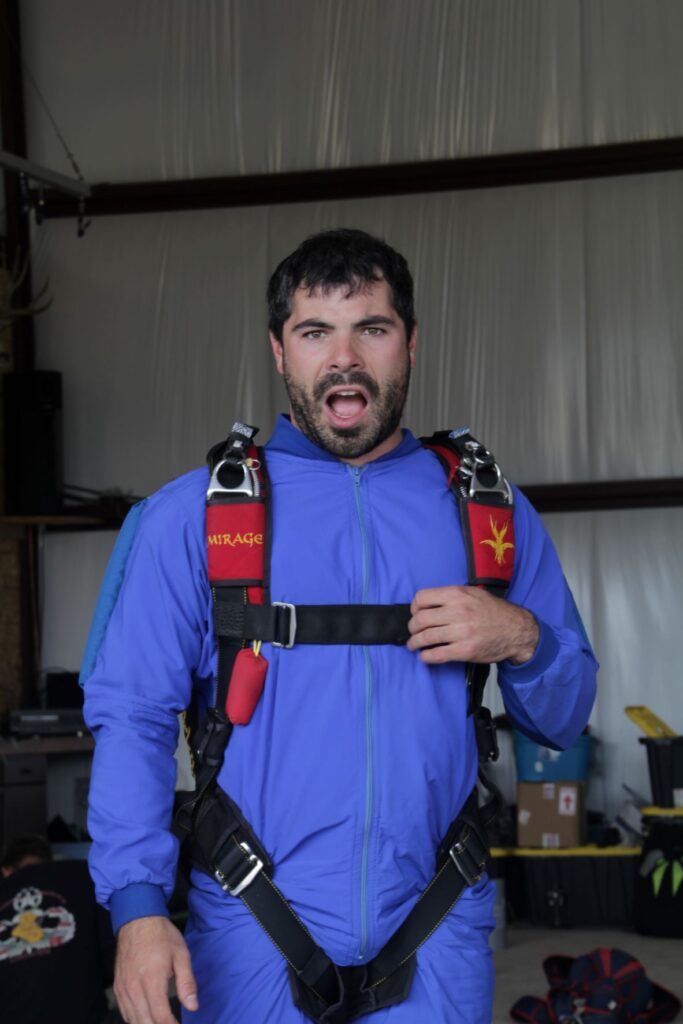 We also offer a complete training course to become a licensed skydiver which begins by attending a first jump course that includes approximately 6 hours of ground school and your first skydive where you will be responsible for activating your parachute and flying it to a safe landing under the guidance of two instructors. Please contact us for more information about the complete AFF training program.